When you use the AAA Storage calculator, you'll save yourself time and money by easily finding the right size unit for your personal needs. Our simple tool helps you find the exact amount of storage space your belongings will require, so you don't have to worry about accidentally buying too small or too large of a unit.
Whether you're storing boxes full of smaller items or your bulky kitchen appliances, the storage calculator will give you the answer within a matter of minutes. If you need additional assistance, call the facility of your choice and one of our storage experts will be willing to help you out.
Bed, King Size
approximately 70 cubic feet
Bed, Double Size
approximately 55 cubic feet
Bed, Single
approximately 40 cubic feet
Bed, Bunk (set of 2)
approximately 70 cubic feet
Dresser, Chest of Drawers
approximately 30 cubic feet
Cedar Chest
approximately 15 cubic feet
Ironing Board
approximately 10 cubic feet
Side Tables
approximately 10 cubic feet
Wardrobe Boxes (30 hangers)
approximately 10 cubic feet
Mirror
approximately 10 cubic feet
Size Suggestion
To receive a size suggestion, select the items you wish to store.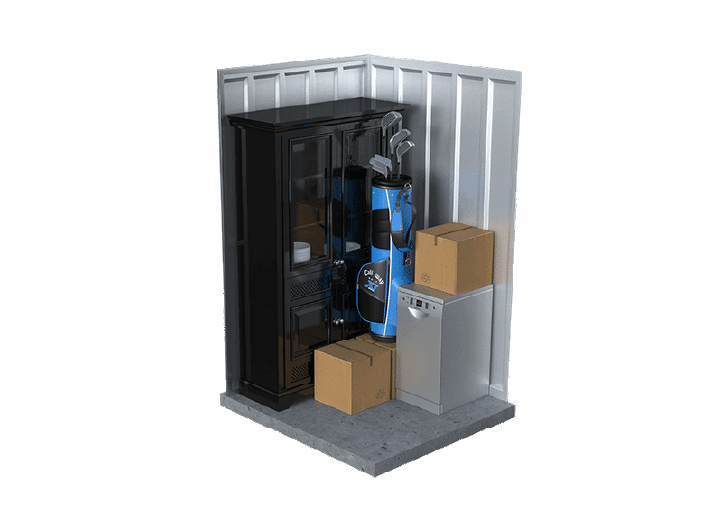 About AAA Storage
At AAA Storage, we deliver unmatched self storage quality, every day. Visit our state-of-the-art facilities and discover an immaculately maintained property with professional storage experts who deliver the hassle-free self storage experience you deserve and expect. Our secure facilities are located in Texas, Florida and North Carolina.
Storage unit size dimensions offered for rent are approximate. The actual sizes and shapes of units at the self-storage facility may differ. Prospective tenants, prior to signing the rental agreement, should inspect the storage unit to be rented to confirm their acceptance of said unit for rent. Their decision to rent the unit should be based on this inspection and not on the promoted unit size. Rental rates for a specific storage unit are not based on the measurement of square footage.
* Monthly rental rates shown exclude Tenant Protection fees and state sales tax (where and when applicable). Discuss promotional details with Store Manager. Limitations may apply. Promotion(s) based on unit eligibility and availability. Monthly automatic credit/debit card payment may be required for some promotions. New customers only. Limit one promotion per customer.